June 17, 2010
To Whom It May Concern:
My name is Gary W. Tipps, I am the Assistant Chief of Police for the City of Moore. I have been a law enforcement officer for over thirty-one years. My wife, Jacquelyn D. Tipps, is a retired Registered Nurse who has worked in the operating  room for over twenty-five years.
We are in the process of finishing the building of our "dream house". We invested our life savings into constructing a home in which we hoped to be proud. Unfortunately, we used a builder we later found to have little or no experience in building a custom home. We had nothing but problems with every aspect of the construction.
The first big rain we experienced, two weeks after we moved into the house, flooded our garage. Needless to say, we lost many of our precious possessions. All of this was due to incompetent construction of the driveway and improper grading of the backyard. The water had no place to go except to backup and pool in the driveway and yard. In addition to the flooding in the back, the front steps to our new home were also inadequately constructed. One step was several inches shorter in depth than the other step. This caused several visitors to miscalculate their stride and almost fall. In addition, there was a large chunk of concrete that had simply cracked and broken off on the bottom step. All of these problems were due to a construction contractor not really knowing nor understanding what he was doing. We were at a total loss as to what to do.
My wife and I then met Bill Guinn. He was great! Bill came to look at our problems and talk with us at no charge or obligation. He never pressured us not one time to use his company. He gave us a long, long list of satisfied customers that we were free to call and ask about his work. Bill didn't have to sell his workmanship, his past customers did it for him. That's no small fete.
Bill and his minions surveyed and "shot grades" in our back yard several times. They went back to the office, worked on their plans and the next thing we knew they were calling to ask if they could come back and look at the problem again to be certain they were giving us the best job possible. Race, Bill's foreman, even came out a couple of times and visited with my wife and me about what needed to be done. Everyone wanted to make sure we understood the whole problem and the solution they were proposing. Bill is in the concrete and drainage business and I wouldn't say his work is inexpensive but for the warranty, planning and care he and his entire company put into the job is worth it! My family and I do not want nor do we have the money to keep having these problems repaired and we know with Bill's company doing the job that won't happen.
Unfortunately, now our finances have been severely depleted due to repairing other mistakes related to our home. We just can't afford to have everything done at this time. So, we opted to have our steps fixed so that no one would get injured. Race came out and supervised the replacement of the steps. They did a wonderful job. The steps are now safe and they look nicer than the way they should have looked originally, even better than we dared hope. As for the remainder of the job, Bill has generously told us that when we recover financially and are ready, he will fix the driveway and backyard problems at the originally quoted price.
With all my years in law enforcement and my wife's years in nursing, knowing and meeting people from all walks of life, we have rarely know people better than Bill, his wife Jeannie and Race. I have never recommended a business or company to do work for any citizen but I do and will recommend Bill Guinn's Concrete and Drainage Company. You would be hard-pressed to meet more honest, hard-working, nice, faith based folks with the customers best interest in mind. It has been a privilege and honor to know Bill and company. My wife, Jacquelyn, and I are honored to recommend Bill's Concrete and Drainage Company to anyone who needs any type of concrete and/or drainage work.
Gary W. Tipps
Assistant Chief of Police for the City of Moore
Bachelor Science in Organizational Leadership/Business
Masters of Science in Management
Graduate of the F.B.I. National Academy 177th Session
TO WHOM IT MAY CONCERN:

In my 30 years of being a homeowner and 27 years of owning rental property, I have dealt with many many various contractors. I have experienced jobs from good to fair. One job was having a swimming pool built, which was a total nightmare. The contractor assured me he would start the job and stay on my pool until completed. He started the job and did what he said he would do to get the 1/2 down payment; after that point getting him back for completion ended up in court. The concrete he poured around the pool area and patio began cracking, flaking and settling. WHAT A MESS!!!
Being in insurance, I know and we insure a lot of contractors. Therefore, I called some of our clients to find a good concrete contractor. BILL'S CUSTOM CONCRETE was recommended by a large commercial concrete company. I called and Mr. Bill Guinn came out to give me an estimate. I liked what he said and readily knew (this was obvious) he knew his business. My MAIN question was – Sir, are you going to start the job and then go start several others and leave my yard torn up and in a mess? He said, NO – I do not operate that way. Needless to say, all I could do was take him for his word….. The first day his crew came in jackhammered and hauled off old concrete. The second day they poured concrete and the third day did their cleanup. The entire courteous, hard working crew equal (totally unbelievable).
I did not find a good contractor; I found "THE BEST" 
Dear Bill,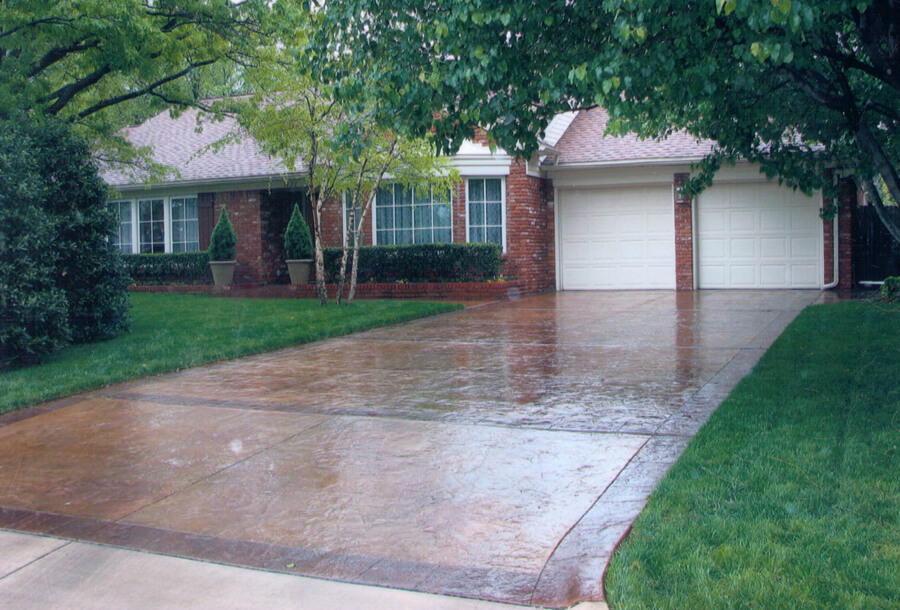 I would like to tell you how satisfied my husband and I are with our new driveway- we are very proud of it. For a long time we delayed having the old one replaced because we were afraid we would make a wrong choice of a contractor.
Beginning with Wayne's courteous visit and patient answers to our many questions, we have been happy with your service. We both watched every phase of the work and I learned a lot about concrete, a new experience for me.
All the men who worked on this job impressed us with their neatness, courtesy, and professional manner. As I observed how labor-intensive this work is, how much expensive equipment came and went, and how much material was poured into that big driveway. I realized why driveways are so expensive, and I wondered how you could do it for that price.
Perhaps the most impressive aspect of the work was the very frequent supervision you and Wayne provided. You did not bid the job and turn it over to the employees even though you have good workers. I also appreciated your meticulous attention to even the minor details.
After we contracted you, visited with Wayne, and read your literature, we drove around and looked at some of your work you listed and we phoned one lady. As I told you, she did a really great job of praising your work, which you did five years ago. The fact we could see other driveways and talk to owners was a big plus.
We think our driveway will be good advertisement for you and you may use this letter if you wish. We will be glad to visit with anyone who is interested in contacting us. 
To Bill's Custom Concrete and Drainage: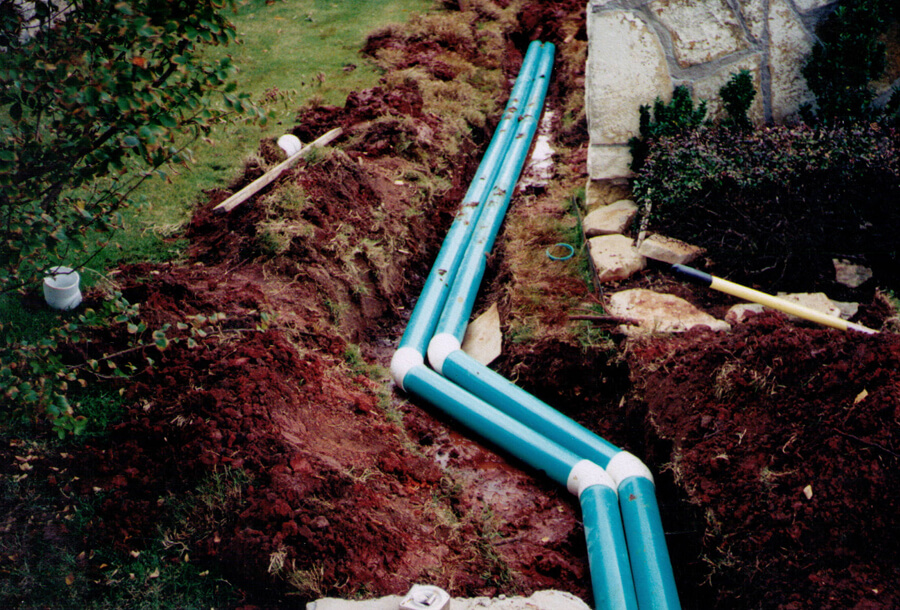 Thank you for the superb drainage and concrete job you did for us. Not only did we appreciate your advise and guidance when initiating the job, but your professionalism throughout the entire process.
Honestly, quality, and professionalism are such a rarity now of days: you should all be very proud. I know we are.
If you should ever need a recommendation, please let us know. We've gotten so many compliments on your work. No one can believe your five year crack guarantee or lifetime drainage guarantee either!
We can't say enough guys. Somehow thanks just doesn't seem enough.
To Whom It May Concern:
Recently, I have had the opportunity to work with Bill's Custom Concrete on our remodeling project involving design and artistic brick design within a patio area. I am writing this as a recommendation and a sincere thanks for Bill's understanding and professional approach to our specific needs.
Bill's crews are efficient and skillful. They are well organized and operate within the superior level in this designated area. They approach their tasks systematically and integrate all the pieces in a workable plan.
Bill is a competent individual and displays flexibility in his approach. He has a vast knowledge of construction and design activities, is reliable, and has an excellent crew. I commend Bill and his crews for acquiring such a professional attitude and hope that quality people like these remain a normality instead of a rarity. Again, Bill has made this project a pleasant experience and it was a delight to work with quality people like Bill and his crew.
We have used Bill's Custom Concrete on several occasions and have always been 100% satisfied with both quality of work and customer service.  This is a highly professional and extremely efficient organization, and the crew members are very friendly, polite, and hard working.  In many instances in today's world, customer satisfaction seems to be a relatively low priority, but that will NOT be your experience with anyone associated with this company.  We can highly recommend Bill's Custom Concrete without any reservations whatsoever.
Jim O. – Oklahoma City
Review from Pat F. on Yelp:
Bill,
Just wanted to thank you for an outstanding job on my driveway, sidewalk and patio.  I put a review out on Yelp for you.  It's rare I do on-line reviews but you are definitely worthy of one.
Thanks again!
Pat
To Whom It May Concern:
If price is your only concern on a concrete job then Bill is not your man.  If you want a quality and professional job then Bill is the guy.  Bill's crew put in a driveway, sidewalk and patio for me.   They did a great job.  From the demo to the final cleanup I have absolutely zero complaints and nothing but praise.  Bill and his crew go the extra mile to ensure the pour not only looks great but will last for many, many years.  Often you won't realize poor concrete work for months or years afterwards.  I have complete confidence that Bill does everything right and recommend him highly.
Pat F.
Bethany, OK
As Reviewed on Yelp
Review From Mike on Yahoo…
My original contractor fell through on my driveway expansion. This turned out to be the best thing that could have happened because I ended up calling Bill s and got a better job at a better prices. They did an awesome job and even helped me to improve upon my original plans for a minimal increase. They were very professional and cleaned up the driveway and the work area where you d never know there was any construction done. They showed up when they said and stayed on the job till it was complete to my satisfaction. I highly recommend them if you have any concrete or drainage work.
Bill the owner came out personally and did the estimate and the Superintendent on the job Race provided excellent customer service.
Mike…
Review from Bill McCall on Yelp
August 26, 2013
Bills Custom Concrete installed  a drainage system for me.I am so happy with the job they did.Race and his crew are the hardest workers I have seen in a long time. Also I want to thank Jeannie for her help……So thank you all for a job well done. ………….Bill McCall
Review from Lynn on Yelp
August 20, 2013
Bill's Custom Concrete installed my patio and my French drains.  They did an excellent job.  Their employees were always polite and hard-working.  The cleanup after the work was completed was well done.  It is always a pleasure to do business with Bill and his wife Jeannie.  The foreman, Race, is very helpful and explains things thoroughly.
Lynn F.
Bill himself came to my house to quote…
Bill himself came to my house to quote me which I thought was a good thing right off. Everything was smooth and I'm very pleased with the results.
Top notch quality!!
Kyle NW OKC
Review from M.G. in Edmond on Yelp.com
September 8, 2013
What a great team of professionals.  Very friendly, communicative company.  I received a canal before, during, and after the entire process.  They did a really great job and will refer them in the future.
My Company, CompuSource Business Services, hired Bill's Custom Concrete to fix a new construction problem with the handicap stair access to our building. When the building is gone 100 years from now the new stairs installed by Bill's Custom Concrete will still be standing. His crew was very organized and did not interrupt the flow of our client traffic and the construction site was kept clean and safe. Bill's Custom Concrete was also the low bidder on the project and delivered A+++++ service and quality.
I have had many experiences with concrete contractors in the past, none of which were very good. I recently contracted with Bill's Custom Concrete to correct drainage problems and install a drive and parking area at one of my properties. Finally a contractor that knows what he's doing, does what he says and is there on time do it! Bill and his crew did an outstanding job for me! If you are in need of help removing and installing concrete structures or solving water problems like me, I would highly recommend that you call Bill. He is the most knowledgeable person I have ever met in his field and his crew is highly skilled at their job. I will always call on Bill's Custom Concrete whenever I need help at any of my properties, residential or commercial. Thanks Bill for a job very well done!
We had gotten several bids to replace our back patio. Even though they weren't the lowest bidder, we went with Bill's because they were the only ones to address the technical issues of our patio problems. Race and his crew took the time to stabilize our outdoor fireplace and made sure everything looked great. They left the job site in perfect condition. We are extremely happy with the job they did and would highly recommend Bill's!
January 27, 2014
A sincere thanks to all of you for the thorough way you addressed the drainage issues at our home.  For years we struggled with flooding every time a thunderstorm and heavy rains swept through.  The different fixes we tried, were always expensive and never handled the problem adequately.  In time, Bill's Custom Concrete surfaced as the one company most recommended as capable of addressing the problem. One civil engineer, in referring us to Bill's, highly praised your work and the solutions you design.
True enough, Bill and Race presented themselves as well-prepared, knowledgeable professionals willing to answer questions and make sure they fully understood our expectations.  They surveyed the property, assessed the problems, and proposed a well-reasoned approach which, they assured us would correct the drainage.  Using photographs and drawings they explained, in detail, their intention to engineer a drainage solution capable of handling Oklahoma's torrential downpours.  The subsequent proposal was within our budget and enough so that we were able to include additional concrete walkways, pads, and other repairs to the project.
The crews reported promptly on the scheduled start date, as promised, and were always punctual throughout the construction.  Bill's workers were professional, hardworking, and always attentive to the job and to us, taking time to speak or answer frequent questions.  At the end of each day the work site was carefully policed and safety barriers set in place to prevent a passer-by accidentally entering the work area.  We were favorably impressed with the entire crew's hard work and are very satisfied with the completed drainage and concrete.  After the work was finished they cleaned the yard, drive, and other areas so we were able to enjoy the finished product without worrying about a time consuming clean-up.
In short, we highly recommend Bill's Custom Concrete for its well-engineered drainage system, quality concrete installation and outstanding work.  It has been a pleasure doing business with a local company that understands the value of delivering real value.
Thank you, again,
Wayne and Jan
Edmond, OK
Review from Diane Cothran sent via Google Plus Local
January, 2014
I first called Bill's to get an estimate on staining my patio. Race came out to look at the patio and was very truthful about my patio being too old to actually accept acid staining and that he could do it, but I probably wouldn't be happy with it. He suggested painting it instead. I also talked to him about the water drainage issue we had when it rained and how the rain would stand on the patio. After he left I did research on staining a patio and Race was right on and save me big $'s from not having my patio stained by another company!!
After my research I called Bill's concrete back to give me an estimate on my drainage issue. Race came back out to the house and designed and gave me an estimate for french drains. Race & his crew came out when scheduled and had the drains put in quickly. After the work was done, the crew cleaned up everything and left everything neat and back in place. Jeannie called to make sure I was satisfied with everything. I told her that I was very satisfied!!
After the ice storm I went outside to clean up the patio and found it to be peeling up and was cracked. I'm glad I didn't do anything to it thanks to Race's advice. I then called Bill's concrete and ask for them to give me an estimate replacing my patio.
They are very professional in everything they do. My new patio looks awesome and once again the clean up was more than expected. They not only cleaned the new patio they completely power washed my whole driveway! They are very cautious about when they pour concrete and take the weather into consideration. I have nothing but good to say about this company and would recommend them to anyone!! I appreciate this company's values of customer satisfaction!
Review from Scott Southard sent via Google Plus Local
We had a very good experience with Bill's Custom Concrete. They kept us updated and informed about the schedule due to winter weather. The employees who did the work at our house were very pleasant and did a great job. We would recommend them to anyone and will use them again in the future.
I had Bill's Concrete tear out an old drive way with drainage issues and install new concrete with a drainage system, they also put a pad down for a backyard shed. Race was great to work with and all the work was done quickly and with great professionalism. I have several rental properties and would not hesitate on using Bill's in the future. T. Collier
The patio is absolutely beautiful !  It is so much more than I anticipated.  The craftsmanship of the finished product is magnificent.  I can't wait to get out there and enjoy it.  My neighbors are equally impressed.
Thanks very much for doing what you do!
Bill was very professional, identified a solution to my drainage problem, and worked with an engineer to make sure the tricky drainage solution would be resolved. His staff was very courteous and responsive to my questions and requests and made …MoreBill was very professional, identified a solution to my drainage problem, and worked with an engineer to make sure the tricky drainage solution would be resolved. His staff was very courteous and responsive to my questions and requests and made sure that the drainage solution avoided intrusion on a large magnolia that is a hallmark of our front yard. Would certainly recommend him to anyone needing tricky drainage and concrete solutions.