Bill's Custom Concrete and Yard Drainage is the premier concrete contractor and yard drainage specialist serving the Oklahoma City, Edmond, Norman, Yukon, Midwest City, Del city and the surrounding Metro areas. Our services include, but are not limited to the following areas:
Custom Concrete Services
Concrete Driveways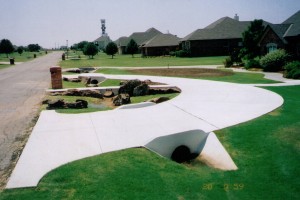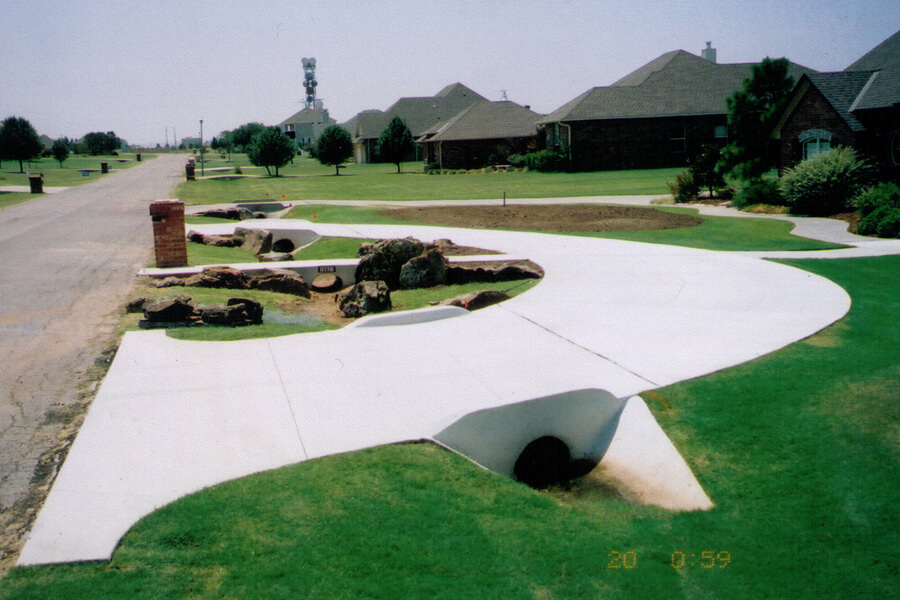 The concrete experts at Bill's Custom Concrete Services have been providing concrete services in the Oklahoma area for over three decades, and in that time we have always strive to make sure each customers needs are met or exceeded. Our experience when it comes to custom concrete driveways is unmatched. We will create a concrete driveway according to your needs, and once we begin work we will make sure the finished driveway can withstand the everyday traffic it will be subject to over the years. Bill's Custom Concrete Services uses only the top grade products and reinforces the driveway with fiber mesh to make sure it can hold up to the enormous pressure. If you can imagine the driveway, our professional team can build it for you.
Concrete Patios
We have been creating concrete patio designs for the residents of the Oklahoma area since 1976, and in that time we have created millions of dollars worth of one of a kind patio designs. Our expert designers at Bill's Custom Concrete Services will pay close attention to your needs and goals during the initial consultation, and then provide you with designs that meet your expectations. You can choose from a variety of colors, patterns, styles and shapes when designing the patio of your dreams. Our team has the ability to create stamped concrete patios, pattern finishes and smooth finishes that will transform the look of your patio area.
Concrete Sidewalks
Bill's Custom Concrete Services understand that with the clay ground in the Oklahoma area can really cause problems with concrete sidewalks. In our four decades of experience we have seen how the movement of the clay and the temperature changes affect the strength of the sidewalk. We can identify if your sidewalk is in need of repair, or we can install new sidewalks. We have the ability to create solid color or unique design sidewalks, with or without patterns. We always ensure that the sidewalk is strong by pouring 4 inches of reinforced concrete onto a compacted base of sand or gravel. Your custom sidewalk will increase the value of your home, or add an visually appealing fresh look to the work place.
Stamped Concrete
Whether you have a driveway, walkway, sidewalk or patio in your backyard, Bill's Custom Concrete can transform your landscape with our stamped concrete process. We can change the look of concrete to resemble unique color stones, bricks, or custom shapes and designs. The stamped concrete process will give the concrete a new look and allow it to stay fresh looking for many years simply because the stamping hides many signs of age. We strive to make sure your concrete pattern is exactly how you visualized it. The addition of expansion joints within the pattern will ensure no cracking will occur.
Patterned Concrete Designs
Bill's Custom Concrete Services can transform the look of concrete by applying patterns, colors, textures and different imprints to according to your specifications. Your concrete can be created to look like stones, bricks or unique patterns as creative as your imagination can be.
Concrete-Cement Coloring
We can offer you the opportunity to change the color of the concrete to match your home or style. Bill's Custom Concrete Services has the experience to match the color of the concrete to your exact specifications.
Driveway Topping
Adding a protective topping to your existing driveway will help to prevent cracking and renew the appearance of old and weather driveways. We can offer you a driveway topping that will complement your existing driveway perfectly.
Parking Lots and Paving
Our professional team at Bill's Custom Concrete have decades of experience when it comes to creating parking lots and paving roadways. We will work with you to create an environment that will meet and exceed your expectations and create a visually appealing finished product within your specific time frame.
Foundations
Laying a foundation in this area requires an extensive knowledge of the clay based soil and how the harsh weather affects the movement of the soil. Bill's Custom Concrete Services has been installing and creating foundations for over three decades, and we understand completely how the ground needs to be properly prepared to handle the concrete weight and the pressure. From the initial excavation of the property, to the preparing the ground for the concrete, to the manufacturing of the foundation, our team of concrete experts will ensure the foundation is strong and durable enough to handle the harshest conditions Oklahoma can dish out.
Concrete Curbs
We have years experience in building quality curbs that are visually appealing and safe structures that will last. Our team has the experience and only uses quality components to create the curbs, ensuring a durable and long lasting structure.
Water Proofing
When you hire Bill's Custom Concrete Services to do any concrete work in and around your home we have the experience to prepare the concrete in advance so that it is properly weather proofed. This comes with 37 years concrete experience in the Oklahoma area, and whether you are have a foundation, slab or flooring installed, we use the correct concrete mixture to ensure you will not have to worry about problems with water leaking through your concrete. We also consult with homeowners to explain the need for proper grading of the soil so that water is not gathering and finding its way to the foundation. Grading the water away from the home is another measure in protecting the foundation from leaking.
Additional Custom Concrete Services that Bill's Custom Concrete Services Provides:
Concrete-Cement Pouring
Driveway Repair
Floors
Slabs
Pool Decks
Concrete Topping
Concrete Overlay
Concrete Resurfacing
Concrete Finishing
Stem Walls
Retaining Walls
Concrete-Cement Sealing
Driveway Add-on's
Concrete-Cement Staining
Yard Drainage
We have many years of experience when it comes to yard drainage issues in the Oklahoma City Metro area. We completely understand how the clay and soil movement in the ground affects the way your property drains water. In addition to that, you have to account to the fact we are in a flood prone location, and the freeze and thaw patterns every season. The combination of these factors can cause significant issues when it comes to water draining properly around your home. If the location of the home is on a lower level than the rest of the property, water will be forced to the home and towards the foundation which can lead to major problems if not addressed. We can provide you at a free consultation and explain how a drainage system can benefit your home.
French Drains
Our team of professionals have the experience to install french drains around your home to properly drain unwanted water away from the home, to designated locations on your property where it can disperse without damaging your homes foundation. The french drain requires excavation expertise so that the gravel and perforating piping can be properly installed in the ground. Even when there has been no rain for a significant period of time, the Oklahoma City area gets hit with massive downpours from time to time that can cause flash flooding around the perimeter of your home. Our professional team will ensure there is no more accumulation of water building up around your homes foundation.
Excavation
Bill's Custom Concrete Services also has extensive experience in excavating. The excavation process requires the appropriate tools to be able to dig the proper holes for laying drainage pipes or for preparing the ground for large concrete projects. Drainage work oftentimes requires a substantial amount of excavation work, and our professionals have over 37 years of experience in excavating. We are experts in the Oklahoma area in regards to offering homeowners solutions to their drainage issues, and excavating is an important part of the procedure to install the drainage systems correctly.
Landscaping Hardscapes
The team at Bill's Custom Concrete Services can create some incredible landscape designs around your home that are appealing to the eye and very functional for your property. We have almost 40 years experience in the Oklahoma City area, and understand how we can experience long periods of rain, then droughts, and then flash flooding. We have the understand and expertise to install the proper drainage systems to draw water away from low lying areas, and redirect it to areas that could use the water. We can consult with you and listen to all the needs and desires you have concerning your landscaping, and offer you a free analysis that meets your needs. Our goal is to provide you exceptional service each and every step of the way.
Additional Drainage Solutions and Services that Bill's Custom Concrete Provides:
Surface Drains
Erosion Control
Diversion Walls
Rip-Rap
Grading
High Water Table Solutions
For more information or to schedule a free estimate, please call us in Oklahoma City at: 405-755-3975, or FAX us at: 405-751-3041. You can also reach us at our Contact Page Here. Thank you for considering Bill's Custom Concrete and Yard Drainage Solutions for your Oklahoma City Metro home or business concrete or yard drainage solution.